Naked & Famous Official
Posted by SEAN WHYTE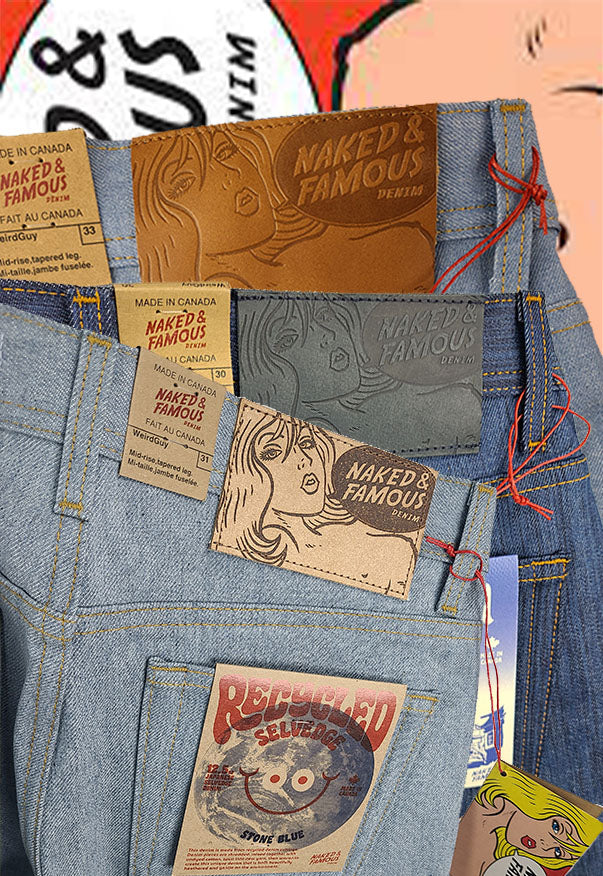 We're so pumped to finally stock Naked & Famous in-store and online. I mean we're pumped to carry so many great brands, however, Naked & Famous is a label we've been working towards earning since we opened our doors last year, and with them now on-board, we can definitely claim "Best Men's Denim Shop in the Okanagan" - we're Naked & Famous Official.
Who's "Naked & Famous"?
Definitely not a "normal" denim company.
Instead of relying on celebrity endorsements and expensive ad campaigns, they focus on sourcing the world's best fabric and turning it into dope jeans. No advertising, no washes, no pre-distressing, no nonsense - just excellent denim at a reasonable price.
Multiple times a year, they travel to Japan to find new fabrics, and work with denim mills to develop crazy concepts like glow-in-the-dark denim, cashmere blends, raspberry scratch-n-sniff, reflective denim, rainbow-fade denim and so much more.
All Naked & Famous products are proudly cut, made and sewn in Canada. Always have been, always will be.
What's with the name?
The brand name Naked & Famous is a satire of our celeb-obsessed culture. Poking fun at "Hollywood"and "Glamour" brands that sell jeans for $300 and up solely because they are celebrity endorsed, and not because they are higher quality.

The logo is reminiscent of 1950's Pop-Art. Early Pop-Artists depicted the "ideal blond" as a satire of mass media and mass culture, then fed it right back to them - Naked & Famous does the same.
Come in and and try on a pair for yourself, find out what the hype's about.
Cheers! Collection 2019 Sale 70% Off Title for image